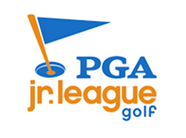 2019 PGA Junior League
Coach Beth's PGA Jr. League welcomes boys & girls ages 8-17. This league is meant to be a fun, exciting, & relaxed team format! Players get to play with friends! This program welcomes players of all abilities. Summer Grove will have 3 or 4 teams.
PGA JR. League Season: April 1 - June 30, 2019 (5-week regular season matches)
Team Practices: Wednesday afternoons, 5:30 - 7:00 p.m., depending on assigned team.
Team Matches: Will be played on Thursday afternoons around 5:00 p.m. at Summer Grove and Newnan Country Club. Team matches consist of three 9-hole matches (shotgun start). Matches are 4-ball (2 vs 2)
scramble format, broken into 3-hole segments called flags. This gives every participant a chance to play.
Team Size: Our team size will remain around 9-11 players so everyone can play as many holes as they wish.
Uniform: Players will receive 2 jerseys (home and away), Jr League ball cap, T-shirt, draw string bag, and bag tag. (part of registration fee)
Cost: $200 per participant.
Register: PGA Junior League Golf go to www.pgajlg.com and select the Summer Grove. All registration is online at this site.
Please feel free to contact Coach Beth with any questions 678-850-6476. We look forward to another great season!